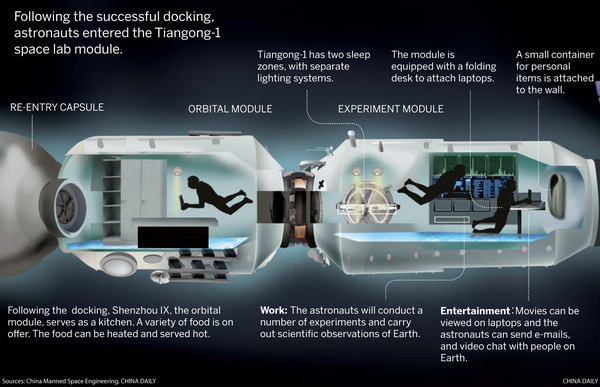 Shenzhou IX will orbit in space for more than 10 days, the longest manned flight ever by a Chinese spacecraft.

Astronauts don't have to wear spacesuits in Tiangong-1, as thermal underwear, athletic socks and fitted shorts were sent into space with the Tiangong-1 lab module in the last launch.

Astronauts have compressed high-calorie food for emergencies, and water is packed in bags with straws. The straws can be locked to stop water from flowing in the zero-gravity space.

The astronauts' living room is a 15-square-meter lab. Female and male astronauts will use separate toilets and sleep in two cabins.

Women get a higher ration of water than men according to international practice and they are allowed to take nontoxic and contamination-free cosmetics into space.